S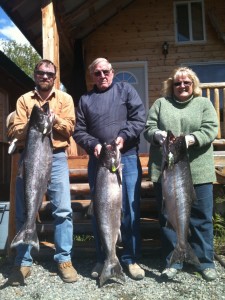 orry it has taken so long to get our 2012 Kenai river fishing reports going, old man winter put us behind and we started this year on the Kenai on May the 8th. Water temperatures were from 39 degrees to 41 degrees. We seen fish each Day rolling, but no takers for a couple days until water temperatures hit 43. So far we have only had one slot fish 49″. Most days up till today were slow; a fish here and there.
Water clarity :  Allot of rock moss.
Today, June 5th, we had 2 boats working.
Damond in the Healing waters boat had 4 guest and had 4 fish on and landed 2 kings up to 45″.
Tylands in the Spider Wire boat had 3 guest and had 4 fish on and took A limit of 3 kings 1 40″ buck and 2 42″ hens.
WATER CLARITY :  Moss is only effecting the plugs under 4″ — way better then last week.
So far that we know of there has been around 9 kings in the 46 to 55″ slot that has been Released with a 50 being the largest that we have heard of. If you have any info that you think will help our fellow fisherman have better days.
See you on the river.
Layton.
Alaska Fishing and Lodging